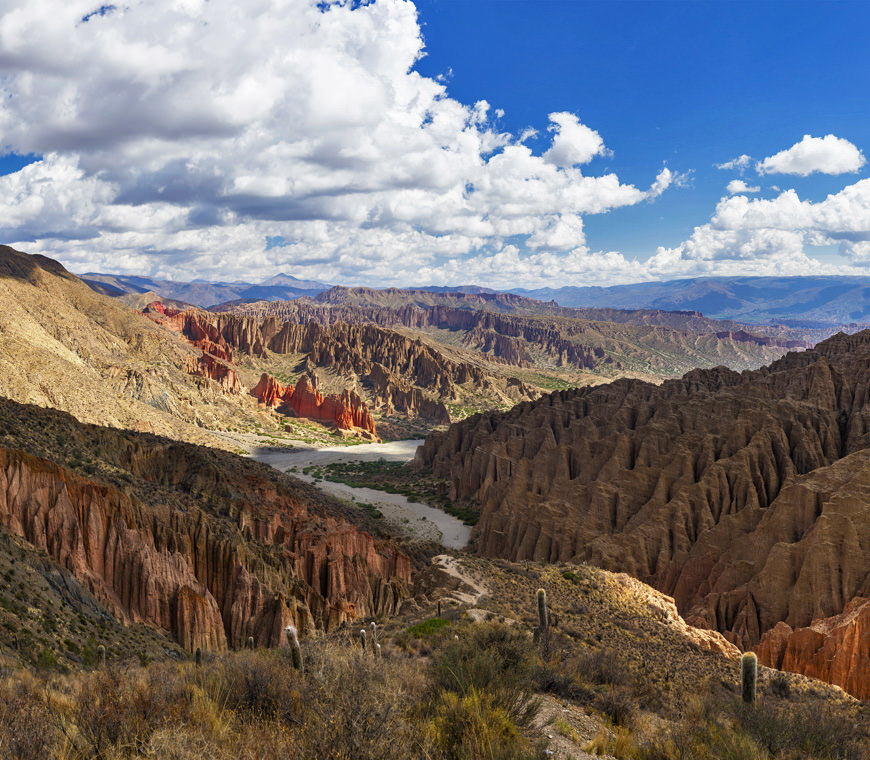 Start packet Jeep tour 4 days Tupiza – Uyuni
The classic tour to know the spectacular Salar de Uyuni, the beautiful colored lagoons and the unique landscapes of Los Lípez. The tour starts in Tupiza and ends in Uyuni. It can be done in the opposite direction: Uyuni to Tupiza.
---
DAY 1 Tupiza 2900 Mt – San Antonio de Lípez- Quetena Chico 4200 Mt
From Tupiza, we ascend through the beautiful red landscape of Quebrada de Palala towards El Sillar, where the diversity of shapes, peaks and craters, resemble a lunar landscape of intense colors and pale pastels. We continue towards the desolate mining areas of Nazarenito until we reach the town of San Antonio de Lípez (4,200 meters above sea level), located in the Cordillera de Lípez, where a few kilometers from the town there is a walk through the ruins of the old colonial town of San Antonio del New World, now called GHOST TOWN. In colonial times it reached 150,000 inhabitants and legend has it that the mining workers with their excessive ambition made a pact with the devil to obtain more wealth, not being able to fulfill the agreement the miners were disappearing and the inhabitants began to see and feel facts strangers, wandering spirits, vengeful specters and tormented souls that appeared in the small streets or dancing in the cemetery, at the same time hundreds of vizcachas began to appear, it was said that the city was haunted, which caused them to abandon their homes and later move the town miles away. Approx. at 01:00 p.m. We will enjoy a delicious lunch and continue the journey through one of the highest mountain roads in the country towards Torreón and Laguna Morejón, then enter the Eduardo Avaroa National Park and arrive at Quetena (4100 m.a.s.l.). The Quetena farmer is dedicated to raising camelids, llamas and sheep. Farming is family and subsistence farming with typical products such as quinoa and potatoes and very little greenhouses.
Arrival approx. 05:30 p.m. at 08:00 p.m. dinner and overnight.
OPTIONAL: CITY ENCANTO.- Located in the municipality of San Pablo de Lípez, very close to its capital POLULOS.
CHARMING CITY.- Walk to the viewpoint, an additional half hour FREE jeep + U $ 2.5 entrance fee per person, departure 7:30 from Tupiza.
---
DAY 2 : Quetena Chico – Dali Desert – Green Lag- Morning Geysers- Lag Colorada -Huayllajara
Approx. 245 km. Stops every 20 min. of route approx.
Start of the excursion at 07:00 am. Bordering magnificent wetlands and under the gaze of the imposing Uturunco ​​volcano within the National Park, we visit the Hedionda and Kollpa lagoons and the small Salar de Chalviri, at one end of this salt are the Polques hot springs 4856m.snm, pools of mineral waters from 26 to 30 ° C where you can enjoy a relaxing bath. 20 minutes from Polques you can visit the Salvador Dalí Desert, named after the Spanish-Catalan painter because of the similarity of his paintings to surreal volcanic eruptions of majestic colors. The trip continues to the viewpoint of Laguna Verde and Laguna Blanca 4350 meters above sea level, located to the southeast of the Eduardo Avaroa Reserve, they are salt water lagoons with a high content of magnesium, arsenic, lead and calcium carbonate, giving the lagoon a beautiful green color emerald that is accentuated, favored by the strong winds that suspend the mineral particles, between 11:00 am and 02:00 pm These lagoons are at the foot of the Licancabur Volcano, at the top there is a crater with a green lagoon bordered by stone constructions. The Licancabur marks the border with the neighboring country of Chile, ten minutes from the Laguna Verde is a Bolivian border post "Hito Cajón". After lunch, the excursion continues to Los geysers de Sol de Mañana, an amazing sight that is located at 4855 meters above sea level. It is an area characterized by its intense volcanic activity, where you can see geysers and fantastic fume that emerge from deep in the earth, one can walk near the small craters from where volcanic lava of different colors comes out at a temperature of 90 ° C , You can also perceive sulfurous gases of different types in the air. The trip continues to Laguna Colorada, which is at a height of 4278. Located at the foot of the black hill, its waters have an intense red color due to the presence of plankton, microscopic algae with red pigmentation of the Dunaliella salina species. On the shores of the lagoon there is a phenomenon of accumulation of different minerals: sodium, borax, gypsum and manganese that give it a bright white color, for all this it is a sanctuary for thousands of Pink Flamingos in its three varieties: Andean, Chilean and James. After the visit and photography, we finish our day in Huayllajara
SILOLI OPTION: (Only for private groups) 18 km further north you will cross the Siloli Desert, an extensive area composed of sand and small stone that is located at 4600 m.s.n.m. where the Stone Tree, a monumental volcanic rock formed of ignambrites (petrified foam), rises imposingly.
---
DAY 3 Huayllajara- Desert of siloli- Route of the jewels- Salar de Chiguana- Atullcha
Departure from Huayllajara at 07:30 am. to cross the Siloli Desert, an extensive area composed of sand and small stones that is located at 4600 m.a.s.l. where the Stone Tree rises imposingly, a monumental volcanic rock formed by Ignimbrites (petrified lava foam) at the bottom there is a soft material such as biotite, quartz crystals and others. The surroundings have a majestic view of the colored volcanoes and plains with large herds of vicuñas and lots of wildlife, descending you reach the Route of the Jewels 4150 m.s.n.m. dotted with beautiful lagoons such as Laguna Honda with its variety of wild ducks and partridges, Laguna ChiarKhota where you can see nests of different birds. Laguna hedionda its waters have a high sulfur content so it gives off a nauseating smell and is home to the three varieties of flamingos and Laguna Cañapa surrounded by volcanoes is the deepest with its 10 m in the deepest part. The trip continues to the viewpoint of Ollagüe Volcano 5865 m.a.s.l., an active volcano with fume that can be seen from afar, it is the only active volcano in Bolivia, its surroundings are of an impressive surreal landscape of petrified volcanic lava until reaching the Tomasamil Volcano 5890 m.s.n.m. and then cross the Salar de Chiguana, the fourth largest salt desert in Bolivia, the Coral Rocks, Galaxies and later go to San Juan, Villa Candelaria, Atullcha or San Pedro de Quemes, depending on the chosen accommodation. Arrival around 07:00 p.m. Overnight.
---
DAY 4 Atullcha- San pedro de quemes o colchani- Salar de uyuni – Uyuni
OPTIONAL "TOUR OF STARS AND REFLEXES": 3:00 a.m. Departure from Uyuni towards the north of the salt flat to observe the reflection of the stars in the salt flat and the milky way, an impressive scenery that can be seen in places where there is a greater concentration of water and allows taking extraordinary photographs of reflections of the stars in the salar, then the sunrise 5:30 am approx. At 7:00 am. Breakfast at the salar to continue with the program.( at extra charge )
We leave 05:30 a.m. To reach the sunrise within the great wonder of Bolivia "El Salar de Uyuni" the highest and largest salt flat in the world 3663 m above sea level, a surface area of ​​12,582 km2 and 11 layers ranging from 2 to 10 m., 120 meters deep approximately where 10 billion tons of sodium chloride, lithium, boron, magnesium, potassium. The temperature during the day varies between 12 and 18 ° C and at night they drop considerably and can reach -20 ° below zero. A long process of water evaporation and accumulation of salts due to the arid climate, gave rise to the birth of the Uyuni salt flat and others such as the Coipasa, Empexa, Chiguana, Chalviri and Capina salt flats. The islands that are seen today in the salt flat are the top of ancient volcanoes. You will enjoy the sunrise in the plain of this white monster and then take a walk through a beautiful path of petrified reefs on the Inkahuasi Island or Inca's house, at the top there is a viewpoint of the salt (360º), it is made of rock or volcanic lava petrified of origin "Blue Alga" or Fossil Stromatolites one of the oldest testimonies of life on earth. The underwater bacteria that have formed them have developed in the times of Lake Michín (40 thousand years ago) and Lake Tauka (11 thousand years ago) that kept the entire island under water, today, it can be seen that the the island is largely covered by a kind of light-colored calcareous shell. This island is located in the center of the Salar and the large number of ancient giant cacti (Echinopsis atacamensis) is surprising, a variety that grows 1cm. per year, that's why some of them are over a thousand years old. After the visit to the island, the jeep moves away to the saline plain to find a convenient place to take perspective photos, in this the imagination plays a lot and elements that you want to use. We continue with the visit to the first Hotel de Sal ( Playa Blanca), the Ojos de Sal, small family factories for the extraction of salt where the piles of salt are found and finally the artisan market of Colchani, where you can buy souvenirs made of Llama wool, Alpaca and salt, then we head towards the Train Cemetery to walk between locomotives, iron and metals from the 18th century to end in the city of Uyuni at 01: 00-02: 00 pm
Lodging
Basic: Basic accommodation with rooms and shared bathroom for 4 to 6 people, does not include hot shower. (Included in the cost of the tour).
Standard: Basic accommodation in a double room with private bathroom, the reservation is made before the tour by prior reservation. EXTRA cost (Possibility of hot shower for an additional cost of $ us. 1.5.-).
Special: Request a quote and / or And only possible in Private
---
Services include
3 Breakfasts, 4 Lunches and 3 Dinners.
Mineral Water (2 liters per person per day).
Refreshments.
Fruits.
1 Oxygen Bottle.
Basic Shared Accommodation: 3 nights of lodging.
Driver / Guide in Spanish.
Transport in a Jeep 4X4 in good condition with oxygen and all necessary implements.
---
Services do not include
Souvenir.
Public toilets.
Bathroom towels.
Hot shower (Cost USD 1.5.- per person) Not mandatory.
Sleeping bag (Extra cost.- per person throughout the tour) Not mandatory.
Entrance to Inkahuasi Island (Coto USD 4.5.- per person) Mandatory.
Entrance to Eduardo Avaroa National Reserve (Cost USD 22.- per person) Mandatory.
Entrance to Hot Springs (Cost USD 1.- per person) Mandatory.
Transfer to San Pedro de Atacama.
Guide in English or another language
Travel insurance.
Tips.
---
Recommendations to Take
Photocopy of Identity Card.
Sleeping bag and clothing for low temperatures.
Comfortable and safe hiking boots.
Sunscreen and hat / cap.
Wool Gloves.
Sunglasses.
Swimwear.
Flashlight and Towels.
Toilet Paper and Pen Cutters.
Two Backpacks: A travel backpack and a small one.
People who are medicated do not forget their respective medication.
---
Protection Clause
The program described above should be considered as ideal and may be subject to modifications due to situations independent of our will and commitment (social demonstrations, road blocks, changes in train, plane and bus schedules, weather conditions, closure of sites of tourist interest in days in which they should work, torrential rains, etc.) Despite this, we will make the best possible effort so that the program sent is fulfilled in its entirety. If not, this situation will be communicated, explained, justified and corrected in the best possible way.
https://southamericaplanet.com/en/start-packet-jeep-tour-4-days-tupiza-uyuni/
https://southamericaplanet.com/es/paquete-de-inicio-jeep-tour-4-dias-tupiza-uyuni/
https://southamericaplanet.com/nl/start-pakket-jeep-toer-4-dagen-tupiza-uyuni/