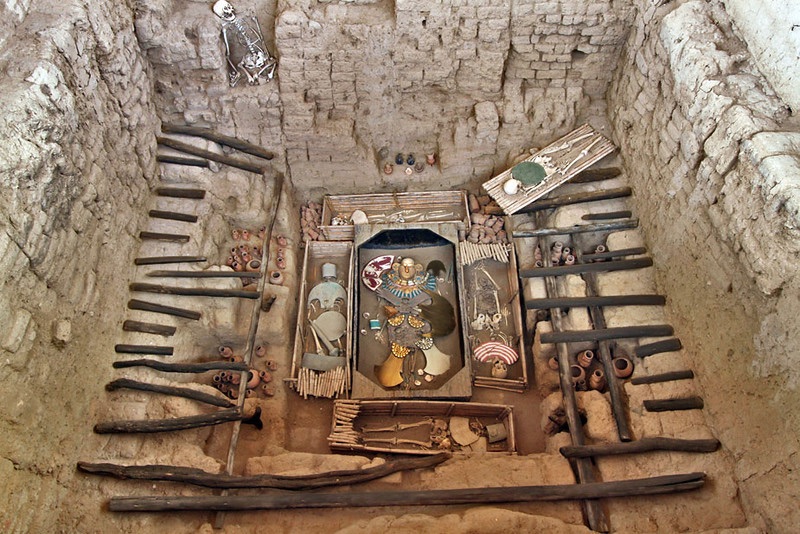 Start Packet Peru-Chiclayo in 3 days, Tucume, Senor de Sipan, north Peru
Here we give you a starting package Chiclayo 3 days
At 25 km from Chiclayo and 780 km from Lima, at 43 m altitude, on 200 hectares, lva and his archaeological team discovered the tomb of the Lord of Sipán, the 'King Tutankhamon for America', the most spectacular tomb discovery in the Western world. Four graves have been found in Sipán and Huaca Rajada, close to the coastal city of Chiclayo. The treasure of Sipán shows us the Moche culture with all kinds of metals such as gold, silver, copper, and fine stonework. Now in Lambayeque, there is the modern and very beautiful museum about all the discoveries and gold of the Lord of Sipán. Further north, 26 colossal pyramids in the Valley of the Pyramids, also discovered in recent years. The largest project is El Túcume. The city of Chiclayo also has a beautiful herb and witch market, with all the natural medicines from the region.
no images were found
---
We offer these packages in 3 versions
1 Budget tour: in hostels
2 classic tour: in 3 * hotels
3 Luxury tour: in 4 * hotels
---
Day 1 arrival Chiclayo
Transfer from the bus station or airport to your hotel in Chiclayo center. It is a very chaotic city, Asian feeling.
Depending on the time of arrival, today you do a city tour in Chiclayo + Witches market (lasts 2 hours) 10:00 am to 12:30 pm or 4:30 pm to 7:00 pm
Visit to ; Plaza Mayor, Chiclayo Cathedral, Plazuela Elías Aguirre, Paseo de las Musas and Mercado de Brujas or Herbolario.
Hotel in Chiclayo.
---
Day 2 Lord of Sipan + Tucume (full day)
Today you do the excursion to one of the most important and most beautiful museums in Peru. You are going to Lambayeque. Here it is recommended the new Museo de las Tumbas Reales de Sipán. In this region, the Moche culture thrived between circa 100-800 AD. Here you will find the beautiful treasure from the tombs of this Moche warrior/priest, discovered in 1987. In this museum are more than 2000 ornamental pieces made of gold. The entrance to this museum is along the side and is built in the shape of a real burial pyramid. On the second floor, you can find a simulated burial chamber of the noble warrior "The Lord of Sipán". The importance of this tomb is shown in comparison with that of Tutankhamun in Egypt. Afterward, you drive to the 35 km distant ruins of the 26 pyramids of TÚCUME. Please note, you will not be able to visit this on Mondays as it is closed.
10: 15h. Pirámides de Túcume, the 26 pyramids of TÚCUME, museo de sitio + Mirador panorámico
14: 30h. Lunch in the Departamento de Lambayeque (not included)
Museo Tumbas Reales de Sipán (Lambayeque)
18: 00h. Arrival to Chiclayo + Hotel
---
Day 3 RESERVA ECOLOGICA DE CHAPARRI
08:00 am Transfer to Chongoyape (departure point towards the reserve)
Visit and observation of flora and fauna; Spectacled bear, coastal foxes, Pavas Aliblanca (endangered species), and hummingbirds.
4:00 PM. Arrival in Chiclayo and end
Transfer to Airport or Bus Station / End of Service
---
What is included?
* Transfers to the bus station or Airport 2 times
* City tour in Chiclayo
* 2 nights hotel in Chiclayo
* 2 breakfasts
* excursion to Lord of Sipán + Túcume
* Excursion to Chaparri national park
* All entrance fees
Not included?
* meals
* flights and bus tickets
We can also arrange bus tickets to Lima –Cajamarca – Máncora– Chachapoyas and Trujillo / as well as local flights
---
If you have more time you can go to
| | |
| --- | --- |
| Bosque de pomac + Sican | Click |
---
https://southamericaplanet.com/en/start-packet-peru-chiclayo-in-3-days-tucume-senor-de-sipan-north-peru/
https://southamericaplanet.com/es/paquete-de-inicio-peru-chiclayo-en-3-dias-tucume-senor-de-sipan-norte-de-peru/
https://southamericaplanet.com/nl/start-pakket-bouwsteen-chiclayo-in-3-dagen-tucume-senor-de-sipan/