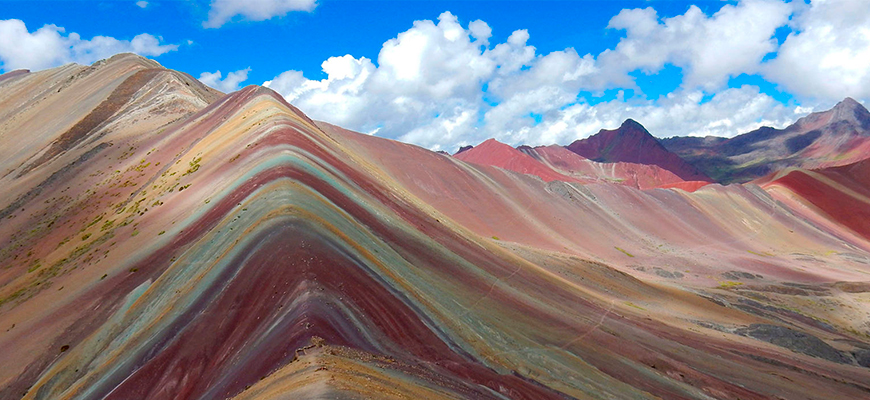 THE RAINBOW MOUNTAIN OR 7 COLOR MOUNTAIN
A fantastic day tour (with trekking) to the 7 Color mountain, through an undiscovered land of wild desert landscapes. Start from cusco
The Rainbow Mountain, offers a remote landscape experience immersing you with living local culture and a unique wildlife only found in these high altitude places.
The Rainbow Mountain, also known as the Vinicunca is a undiscovered land full of wildly desert landscapes, snow capped glaciated peaks, herds of alpacas, and pristine beauty. This hike gets you to experience summiting a mountain over 5,020 m
We operate in small groups from 1 to 16 persons in Sprinter( or in private tours)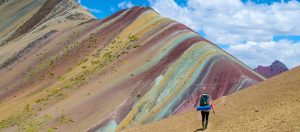 ---
Close to  "Ausangate mountain ", This is considered a holy mountain (or mountain spirit) by local Peruvians. (6,385 m / 20,945 ft), the highest mountain in the Cusco region. The area is inhabited by traditional Andean people or Quechuas. It,s  a very good chance to observe the real country life in Peru.
This route will take you through stunning landscapes with glaciers, snow capped mountains,  and crystal clear rivers and lakes. Pass by local villages  and explore the breathtaking surrounding nature with  llamas and alpacas. The colors of the Rainbow Mountain are amazing!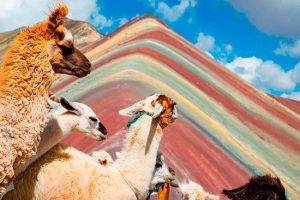 ---
1 Day tour
Your day starts in Cusco where you are picked up from your hotel at 4:30 am. for a 3 hours trip with a private van to the start of the trail. Before we continue our tour we stop at CUSIPATA where we take a breakfast. After that, we continue by car for approximately 1,5  hours  more .
The hike to the Rainbow Mountain will take around 2  hours and has a distance of 5 kilometers. Throughout your journey you will pass through a vibrant green valley with the snow capped peak of Ausangate (6,380 m) towering in the distance. You will see hundreds of roaming alpacas, and you have the chance to truly see how Quechua people live. As you get closer to the Rainbow Mountain you will begin to see the first signs of the colored minerals that formed the painted hills. Your guide will explain what makes up the existence of the Rainbow Mountain and how it was formed. Finally with one last push you will hike up to a vantage point that gives you a 360 degree view of the beautiful landscape that makes up the sacred land.
After about an hour you will embark for your hike back to the trail head (1,5 hours), where you will have  lunch at a local restaurant and depart back to Cusco. Arriving in Cusco around 5 p.m – 6 p.m .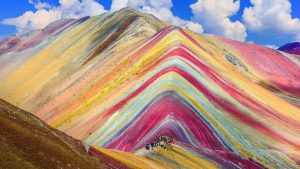 ---
Note: This itinerary is subject to change without prior notice according to weather conditions, strikes, roadblocks, or other events which are beyond our control. We will always do our best to follow the itinerary as closely as possible. 
Overview:
Duration: Full Day – 4:30 am – 5 pm
Distance: 10km. (round trip)
Elevation: 4350 m.  – 5020 m.
Difficulty: Difficult
---
Services Included:
Bilingual guide

Transport to and from your hotel in cusco

Breakfast and Lunch in a local community home.

First aid kit (including a small oxygen tank)

Entrance fee (10 soles to the community – subject to change)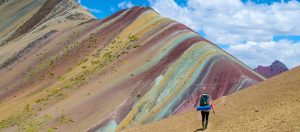 ---
Services Not Included:
Accommodation

Entrance fee (10 soles to  the red color mountain- optional)

Water

Horseback available upon request

Tips

Travel /Health / Emergency insurance

Trekking poles – you can rent them from us

---
What to bring:
Original passport

Water

Rain jacket / poncho/ Long sleeve shirt

Trekking footwear

Winter hat and gloves

Rain pants

Head Torch

Snacks

Sun block, factor 35+ recommended

Sunglasses and sun hat

Camera with spare batteries – batteries run down faster at high altitudes

Binoculars

Cash

Trekking poles (recommended especially for the steep descents, can be rented from us)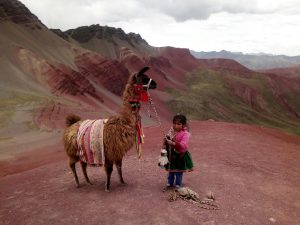 ---
Important information:
This tour is involves at least 10 Km trekking so you should be reasonably fit !

Starting / minimum altitude: 4350 m

Maximum altitude: 5,020 m

This is a challenging day of hiking. Spend some time in Cusco to acclimate (we recommend 3 days in Cusco or similar elevation). The hike takes place over 4500m (15,000ft) and is about 10 kilometers in length , with an elevation gain of 685m (2250ft). The main reason this trek is difficult is because of the elevation. The terrain is a gradual climb and you are walking in a wide valley for the majority of the trek.

Level :  Challenging

Keep in mind that colors are only  strong on sunny days!
---
What do we need when you make a reservation?
Full name as it is written in your passport.* Scanned copy of your passport.

Departing date

We ask for a 40% deposit, sending to us  via visa or Pay Pall online through this website: + 5,5 %  or Wetravel 4.5 % (cost credit cards charge us) The balance you will pay at our office in Cusco before the start of the trek. We accept cash USD or credit card (+ 5.5%)
https://southamericaplanet.com/en/the-rainbow-mountain-or-7-color-mountain/
https://southamericaplanet.com/es/la-montana-del-arco-iris-7-colores-o-vinicunca/
https://southamericaplanet.com/nl/de-regenboog-berg-7-kleuren-vinicunca-berg/