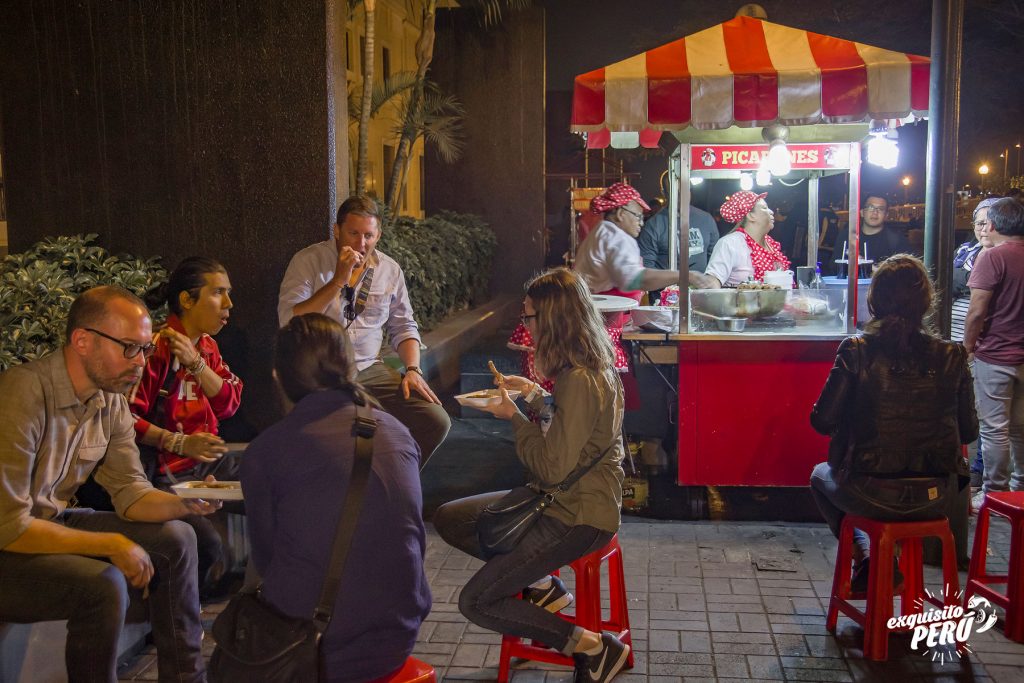 Tour "street food" del Centro de Lima
What to expect in this food tour
Lima Food Tour – Learn about the main historical sites and discover the architectural landmarks of Peru's capital like the main square (Plaza de Armas), the Government Palace, the Cathedral of Lima, Plaza San Martin and more! During this walking street food tour, sample 10 types of foods and drinks, which are all popular on-the-go dining options among locals. Watch out, this is not the typical pisco sour and ceviche tour, we take you slightly off the beaten path
Groups of Maxima 8 Persons from 4.30 PM to 8.30 PM ( not on sunday)
---
Tour menu
Embark on a 4 hour-long walking food tour with our Lima Historic Center's Street Food Tour! Meet with your guide and fellow foodies before heading to Lima's very own Chinatown and to the biggest market of the city! During this food tour, you will have the chance to taste popular on-the-go delicacies that locals devour. While trying some tasteful local treats, you'll be learning more about Peru's history and interesting facts around the local – informal – economy and daily life in Peru.
In the historic center of Lima, you will get to observe Lima's most emblematic architectural masterpieces, of Spanish and Moorish heritage. It will also be a great opportunity for you to people watch and immerse yourself into a truly joyful local experience – we designed this food tour so that you could feel like a real limeñ@!
Although it's very likely that you will have the chance to taste everything listed below, please note that it's possible that the menu might slightly change depending on seasonality and product availability. But don't worry, you won't feel hungry at the end of this Lima's historic center food tour.
MENU:

| | |
| --- | --- |
| Pan con chicharrón | Sandwich filled with a typical Peruvian fried pork belly, paired with fried sweet potato, onions and "limo" chili peppers. |
| Variety of fruits | Depending on the season, you will taste chirimoya, granadilla, aguaymanto and more |
| Peruvian cheeses | Paria, Mantecoso, Fresco, Chincha accompanied with Peruvian olives |
| Chinese bite | To choose between a Siu Mai and a Min Pao filled with pork or chicken |
| Arroz chaufa | The most representative chifa dished, fried rice with vegetables, egg, chicken and soy sauce |
| Inca Kola | The famous Peruvian soda that Coca Cola could never surpass |
| Churro | Spanish heritage! A sweet pastry filled with dulce de leche (caramelized condensed milk). |
| Causa rellena de pollo | Mashed yellow potatoes seasoned with lime and ají, and filled with chicken and veggies |
| Chicha morada | Natural drink made of purple corn. |
| Anticuchos | Grilled beef hearts skewers marinated in ají panca, garlic, cumin and vinegar and cooked over flames. Usually served with rachi or pancita (tripe), corn, potato. |
| Picarones | Known as the Peruvian donuts, picarones are deep fried sweet potato and pumpkin dough. |
| Emoliente | Prepared with various herbs, traditionally the emoliente is taken for medical purpose, but has become a popular drink taken in the evening. |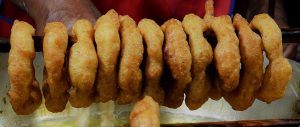 ---
WHAT'S INCLUDED:
✓ Tasting of 10 Peruvian flavors
✓ Official expert guide in English
✓ Overview of Peru and Lima history
✓ Sighting of Lima Historic Center's main attractions
✓ Pick up & drop off in Miraflores, San Isidro or Barranco
✓ Donation to NGO Action Against Hunger Peru ("1 tour = 1 meal" social impact partnership to fight anemia and malnutrition in Ayacucho)
https://southamericaplanet.com/en/tour-street-food-del-centro-de-lima/
https://southamericaplanet.com/es/tour-comida-callejera-del-centro-de-lima/
https://southamericaplanet.com/nl/toer-street-food-van-centrum-lima/