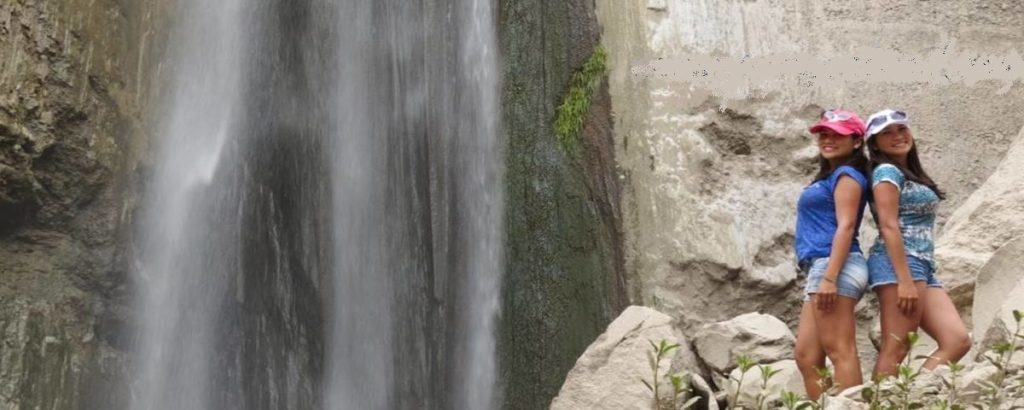 TREKKING WATERFALL CAPUA & YURA AND HOT SPRING YURA FROM AREQUIPA
Location: Yura, Arequipa Climate: Warm & dry Temperature: Average 14ºC Altitude: 2680m.
8:00 AM. we pick you up from hotel, and transfer to Yura town, (if you prefer, it is ok to depart earlier or later), we will leave the city by the north side, along the way we will observe the three volcanoes that surrounded the city, Chachani (6075m), Misti (5822m), and Picchu Picchu (5564m) we will arrive to the cement factory of Yura and then will drive to Capua canyon.
It is common to realize this walk in 3 hours, because usually people begin to hike from the thermal baths of Yura, that is where the public transport arrives; but in order to spend more time in the waterfall and in the baths, and also with the purpose that this excursion can be carried out regardless of age or physical condition, our private transport will take us as close as possible to the canyon of Capua, from where we begin the walk to the waterfall, this walk will take us about an hour (this time can be a little more or a little less, according to the pace of the tourists). The first part of the way will be very easy, we will make a descent by a path between corn and lucerne fields, for about 15 minutes until arriving at the canyon, when arriving at the canyon of Capua, we will walk by a narrower path, and we will have to cross the streams; this path is very entertaining, since there are some small waterfalls, where we can cool off, and rest a bit.
We will continue the tour, and during the walk you can take pictures of the landscape and enjoy the nature, which offers us lovely images, that worth to visit, there is not much tourist influx to this destination, so you can appreciate not only the natural beauty of this canyon, but also the tranquility offered to the visitor. On the walking path inside Capua canyon you will see some small waterfalls previously to the main one, besides, in this pretty canyon we have to climb a bit by the river rocks to arrive to the last waterfall. Arriving to Corontorio, also known as Capua, we will enjoy this impressive waterfall, which reaches 30 meters high, it is sometimes possible to see the rainbow in the waterfall, we will have time to relax and freshen up at the waterfall , then we will return to the transport.
Once in the transport, we get ready to go to the thermal baths of Calera, located in Yura town, the the temperature of La Calera hot springs, fluctuates from 20 ° to 32 ° Centigrade, this is awesome to recover energy spent in the hike, the water from these baths are known as miraculous and prestige is because containing alkaline sulfide, iron salts and other minerals which are considered healing of rheumatism, arthritis, poor circulation of blood, skin diseases, obesity, stomach problems, nervous disorders and stress, according to studies made by the German Tadeo Haenke and the
After the baths, we can walk a little around the town of Yura, where we will see typical houses from the 19th century, built with pink sillar; it is possible to lunch at a restaurant in the village of Yura, where we will taste spicy dishes of the Arequipeña cuisine; after lunch, we'll return to the city, arriving in Arequipa around 3:00 pm
Recommendations to bring:
* Walking clothes , short pants, tee shirt and cap/ Insect repellent/ Sunscreen / Sandals or water proof boots/ Swimming/ clothes/ Hat/ towel
https://southamericaplanet.com/en/trekking-waterfall-capua-yura-and-hot-spring-yura-from-arequipa/
https://southamericaplanet.com/es/cascada-capua-y-yura-y-fuente-de-agua-caliente-yura-de-arequipa/
https://southamericaplanet.com/nl/wandeling-waterval-capua-yura-en-warmwaterbron-yura-vanaf-arequipa/