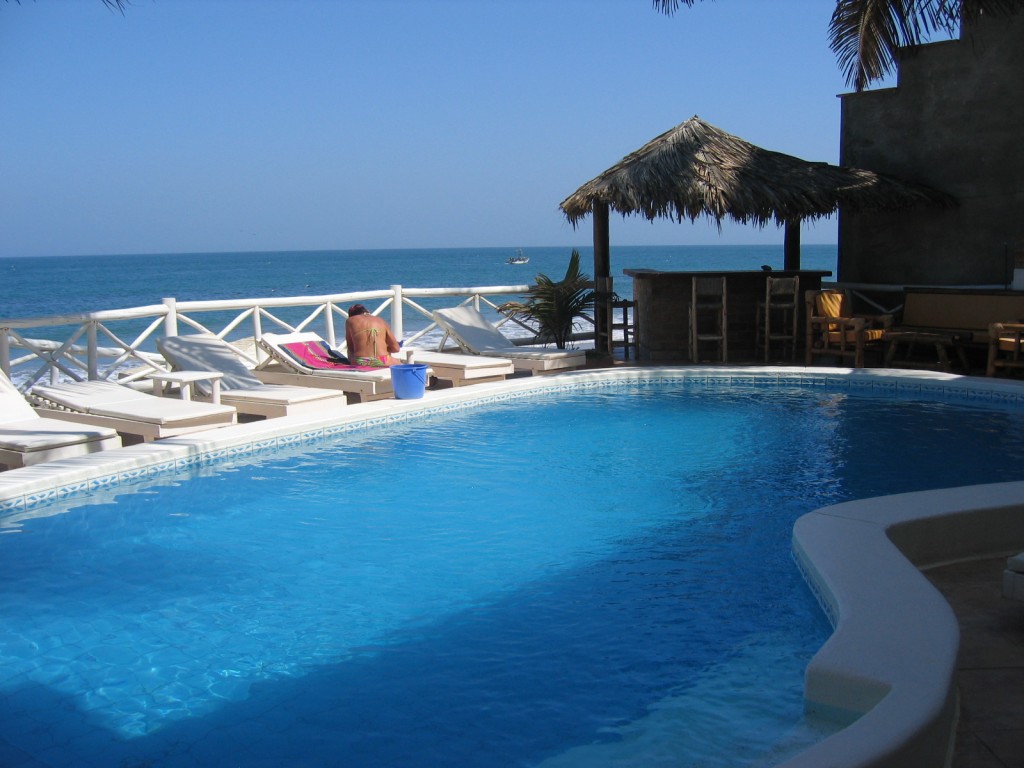 Tumes and Mancora – Norh Peru
All wonders of nature and history
The archaeology of Northern Peru is at least as interesting as the archaeology in the Cusco area !
Peru is a huge country, full of ancient empires, with the rise and fall of spectacular kingdoms throughout the ages. The Incas were the last era before Columbus, so their gold and empire was recorded and made famous to Europeans. Today 99% of Peru's tourists go ONLY to the half of Peru south of Lima. Peru's north half is about half the size of Western Europe, yet it contains the most ruins and the highest level of Americas' past civilizations!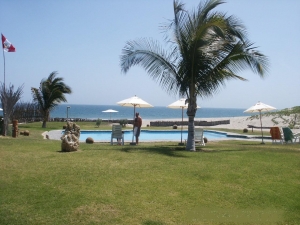 ---
Tumbes: Located in the extreme north of Peru. At 1,270 kilometers from Lima and only a few kilometers from the Ecuadorian border. The capital of the department lies on the eastern shore of the Tumbes river and is an ideal departure point for visiting its many attractions.
Climate: subtropical, sunny during the greater part of the year. Two well marked seasons: dry between April and November, with temperatures higher than 30C° (86F°), and rainy between December and March. Rain fall increases at times of El Niño. Although Tumbes and Mancora are very humid and warm city/village, covered every so often by cloud banks, the beaches on its nearby coast line offer sunshine some 300 days a year
What offers Tumbes It is blessed by nature, and have thousands of landscapes in one: estuaries of calm waters where great flocks of migratory birds wheel about; dense mangrove swamps that are home to ostentatious frigate birds, shy raccoons and crocodiles; wide, long beaches that seem to never end; rocky outcrops eroded by ocean waves into figures of an almost magical appearance. To speak of Tumbes and Mancora is to speak of a truly special corner of Peru, a paradise in miniature. The beaches of Tumbes enjoy a well deserved reputation on a national level. Between Piura and Tumbes is one of the most famous beaches of Peru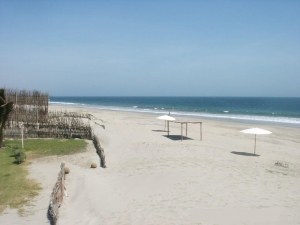 "MANCORA" a long sandy beach, popular stop off for travelers on the Peru-Ecuador route. Good for surfing between November and March. Many Peruvian and Western tourist take some time fore a real holiday at the beaches of Mancora
With warm crystalline waters that are home to dolphins and great schools of tropical fish.
Punta Sal, Acapulco, Punta Mero, Zorritos and La Cruz are among those that guarantee brilliant sunshine all year It is the desert -with its symphony of ochre's, browns, and beige that gives the coast its unique appearance. Every so often, strange figures of an intense red color become visible onshore.
Culinary marvels being a tradition- worthy of the attention of the most skeptical of palates. Lobsters, conchas negras (black shellfish), oysters and sea shrimp are only some of the most prized treasures of these waters.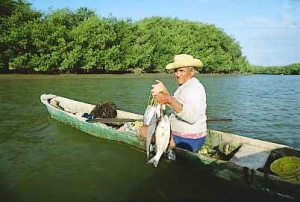 ---
How to get there: Commercial flights arrive at Tumbes and Piura every day. For lovers of the road, the Pan-American Highway is in excellent condition from Lima to Trujillo and in good condition from Trujillo to Tumbes .Bus transport companies offer daily services along this route.
Where to stay: Diverse accommodation ranges from one, to three stars from hotels to bungalows in the city Tumbes or at the beaches in Mancora .
Other attractions: Mangrove swamps at Puerto Pizarro are an ideal spot for a boat tour through these saltwater jungles, followed by an excellent meal of conchas negras (black shellfish) and sea shrimp. For the nature lover, there are several canyons leading eastward (Pajaritos, Quebrada Seca and Fernandez, among others) that are excellent places to spend a day in the country under the shade of an old carob tree.