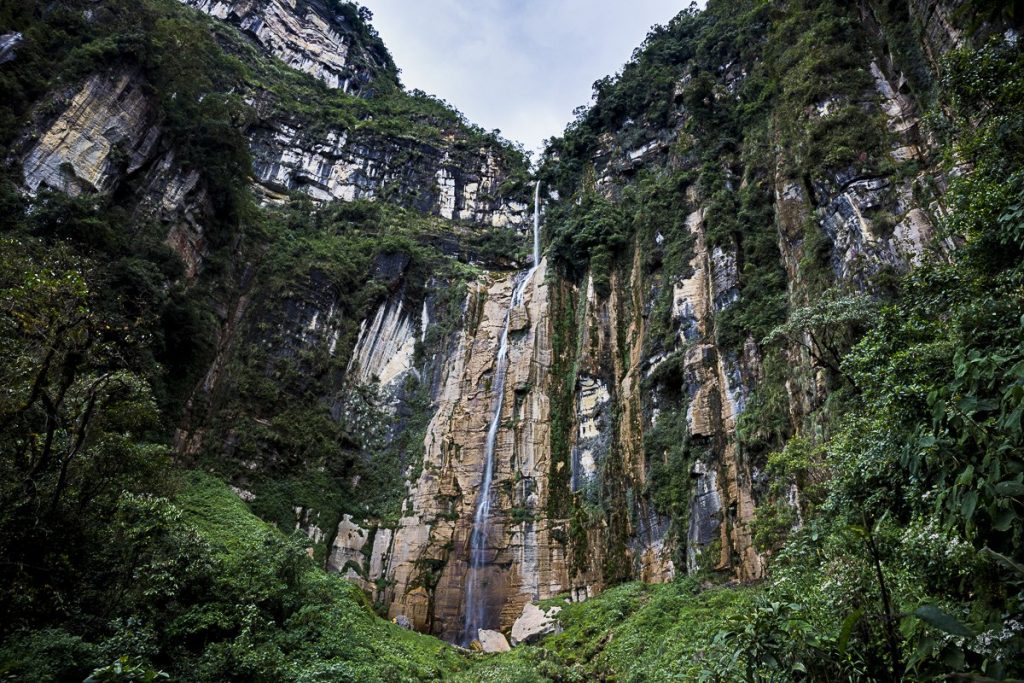 Chachapoyas – Yumbilla + cerro medio + cascada de cristal waterfall
YUMBILLA WATERFALL + MEDIO CERRO WATERFALL + CRISTAL WATERFALL

Itinerary
08:00 AM Pickup from your hotel in Chachapoyas
Transport to the town of Cuispes (1 hour). We begin our 2 hour walk from the town of Cuispes to the Forest of the Falls. During our tour we will enjoy and explore the beautiful landscape. Reaching the Medio Cerro (Middle Hill) waterfall (50min.) we will experience its' waters as we cross them. About 10 minutes further will reach Cristal (Crystal) Waterfall, a beautiful waterfall that adorns the landscape. We continue towards Yumbilla ("Heart in Love") Waterfall, whose water fall is 896 meters, the fifth highest in the world and the second highest in Peru. It flows from the San Francisco cavern at 2723 meters above sea level, where it descends to 1,828 meters above sea level in four falls.
We will cross mountainous terrain, observing forest landscape, fields of cattle ranch and agriculture. Birds species such as the Cock of the Rock (peruvian rupícola), Andean Toucan (andigena hypoglauca), Marañón Thrush (Turdus maranonicus) and animals such as sloths are observed. The area is rich with flora such as bromeliads, orchids, and giant ferns, etc.
05:00 PM approximately, return to the city.
Included / Transport, Spanish speaking guide, entrance fee
OPTIONAL: English Guide (may be a surcharge), Horses if requested (will be a surcharge). Contact us for more information.
NOT INCLUDED: Meals and drinks.
https://southamericaplanet.com/en/yumbilla-waterfall-medio-cerro-waterfall-cristal-waterfall/
https://southamericaplanet.com/es/nl/chachapoyas-tour-bosque-de-las-cataratas/
https://southamericaplanet.com/nl/chachapoyas-yumbilla-medio-cerro-cristal-waterval/