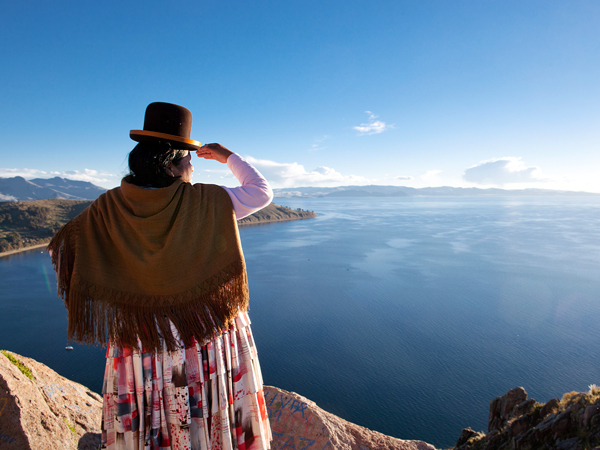 Start Packet Peru, Puno and Titicaca 3 days
Starter package, Puno 3 days
Lake Titicaca. Situated some 3800m above sea level and covering an area of over 8000 square kilometres. You'll begin your tour by visiting the fascinating Uros islands, home to the descendants of the pre-Inca Urus people, who continue to live on the floating islands, which are constructed using the totoro reeds which grow around the lake. Than we go to Amantani island, you sleep on the island with a local family, basic but a nice adventure ! They treat you as there own children, in the evening you sing and dance with the whole village in local clothes. This option provides a great opportunity to interact with the warm and hospitable islanders and to learn about their daily lives. Taquile Island. Another beautiful destination. The island still bears vestiges of a pre-Incan past. The are Ayamara Indians. The intricate and brightly-colored textiles produced here reflect the inhabitants' Andean beliefs, myths, and ways of life. Or you visit the grave towers of sillustani.
See below for optional excursions
---
You can choose this tour in 3 options
1 Budget tour : in hostals
2 classic tour: in 3* hotels
3 Luxe tour: all 4 * hotels
---
Day 1 Arrival in Puno
Today you arrive, either by bus or train from Cusco / O from the Colca canyon, or by plane from Juliaca (this transfer is more than 45 minutes), so it also costs a little more. Transfer to your hotel in Puno of your choice.
---
Day 2 Visit Uros + Taquile islands
10 hours approx. Distance: 75 kilometers
At 6:30am pick-up from your hotel in Puno, transfer to the port. Then by motor boat (35 feet long with a covered section in case of rain or cold weather, we visit the Uros floating Islands. Stepping on them feels very much like a water bed. We see the houses, the islands and meet its inhabitants. Uros people are descendants of one of the oldest South American groups. Rides on traditional reed boats can be arranged. We visit two of the 60 islands before continuing on to Taquile Island. After a relaxed navigation of extra 2 1/2 hours when we enjoy the spectacular views offered by Lake Titicaca, we get to Taquile island. There a unique community can be observed. A long path gradually ascending will take us to the village (45 min. hike approx) Taquile has an interesting small central square with an artisanale market and shops/cafes . To visit the communal cooperative where you will find handy craft textiles. Lunch at one of the many local restaurants. The views are magnificent. Then we descent 500 steps down to the main port of the island. at 2:30pm approx. depart back to Puno City (3 hour return journey). At 5.30pm arrival to Puno, then transfer to your hotel in Puno.
---
Day 3 Transfer out
Transfer to the bus or train station to continue your trip to Cusco- Arequipa or Bolivia (transfer to the airport costs extra)
---
Included in this package
Transfer to and from the bus or train station in Puno (to the airport is more expensive)
English speaking guide
Uros + Taquile 1-day shared tour
boat
Lunch on the island of Taquile.
2 nights in a hostel or hotel
2 breakfasts
Not included
---
If you have more days in Puno or want to make other excursions, these are the following options
| | | |
| --- | --- | --- |
| | Optional excursions from PUNO 1 Day | Click for Program |
| | In Pool + Private service | |
| 1 | Uros + Taquile 1 Day | click |
| 2 | Uros + Taquile Islands 1 day by speedboat | Click |
| 3 | Kayak tour at Titicaca + visit Uros + Taquile islands 1 day | Click |
| 4 | Uros flooding reed islands 1/2 Day | Click |
| 5 | Sillustani Grave tomb 1/2 Day | Click |
---
Or if you want to spend the night on one of the islands or on the farm
| | | |
| --- | --- | --- |
| | Optional excursions from PUNO 2 Days | Click for Program |
| 1 | Alternative tour, Uros islands + Taquile with overnight in Luquina 2d/1n | Click |
| 2 | Uros + Taquile + Amantani Homestay 2 d/1 n | Click |
| 3 | Uros + Homestay Taquile 2 d/1n | Click |
| 4 | Mallkini Alpacca Farm 2 d /1n | Click |
| 5 | Fundo Chinchero Farm /Puno 2 d /1 n | click |
| 6 | Suasi Islands 2d/1n | Click |
---
Or Options if you are on your way to Bolivia
Optional excursions from PUNO To LA PAZ

Click for

Program

1
Puno to La Paz over Copacabana with catamaran in 1 day
Click
2
Puno to La Paz over Copacabana with overnight en catamaran in 2 days
Click
3
Puno to La Paz 2D/1N with Eco lodge estancia At isla del sol
Click
4
Puno to La Paz 2 or 3 days in posada del inca lodge
Click
---
What do we need for a reservation?
* Full name as it appears in your passport.
* Scanned copy of your passport.
* exact arrival date and flight number.
* vegetarian or not.
* room type 2 beds or 1 large bed.
* We ask for a 40% deposit when booking the rest 4 weeks before departure. Bank transfer to our Peruvian bank account or Wetravel (+ 4.5%)
---