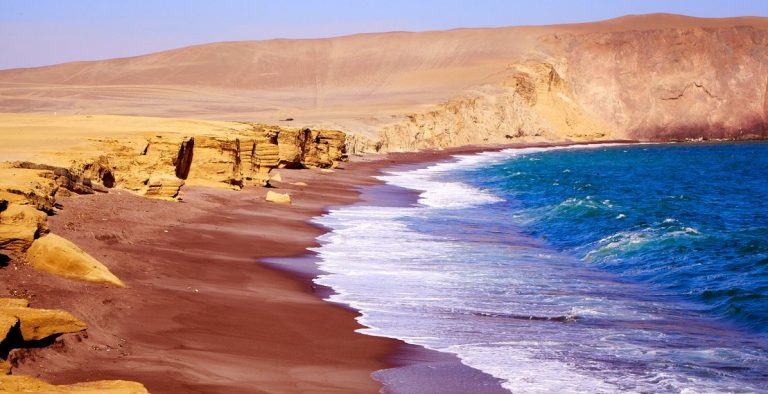 Start Packet Peru-Paracas – Ica – Huacachina in 3 days
Start package for in Paracas – Ica and Huacachina in 3 days
---
Paracas is a 4-hour drive from Lima. You immediately feel that it is a lot warmer. Lately, Paracas has become a resting place and beach for a relaxing holiday, as there are now very beautiful luxury hotels. While you have a nice hotel with a swimming pool, you can also visit the beauty in this area. The highlights are the Ballestas Islands with thousands of sea lions and birds + the beautiful Paracas reserve. Huacachina is also known for its fantastic dunes. In these dunes, you can find the real adventure with Sand buggies.
---
We offer these packages in 3 versions
1 Budget tour: in hostels
2 classic tour: in 3 * hotels
3 Luxury tour: in 4 * hotels
---
Day 1 arrival Paracas
On arrival, our contact person will be waiting to take you to your hotel. Here you have a hotel with a swimming pool close to the sea at the harbor. Stroll along the boulevard and enjoy the delicious fresh fish dishes. And from your first Pisco sour with a beautiful sunset. Depending on the time of arrival, you can optionally make an excursion in the afternoon today.
---
Day 2 Ballestas + Huacachina + Ica
This morning around 8 Am we will go to the islands of Ballestas, with hundreds of sea lions and birds and beautiful rock formations. They are therefore sometimes compared to the small Galapagos Islands. The most common animals are seals, pelicans, cormorants, gannets, penguins, and other bird species that use the rocks as a breeding and resting place. A large amount of bird droppings lures millions of fish, which in turn serve as food for the birds, but which have also been used as fertilizers for years.
This manure was one of the largest export products in Peru! Speedboat to the islands with an English-speaking guide, who knows a lot about the animals. To protect the sensitive ecosystem, you cannot enter the islands themselves. On the way there the boat sails past the 100 m high "Candlestick", a large drawing in the desert sand on a hill along the coast. Afterward, you do an excursion at 11 Am to the reserve of Paracas. Later on, we have a private car that first will takes you on a trip of 1 hour to a pisco brewery for a free tour with a tasting include! Next, you will drive 10 minutes further to Huacachina, this is an oasis in the desert between beautiful immense dunes. Here you do the beautiful 1-hour sand buggy tour at 4 Pm, adrenaline guaranteed, but also beautiful vistas. We are dropped at our hotel in Ica or Huacachina.
---
Day 3 Transfer out
Today transfer to the bus station of Ica
Nota /We can also arrange Bus Tickets to Lima – Nazca – Arequipa, or private transport.
---
Included in this pack
– Transfers in from bus station/hotel (in the port)
– Assistance staff digitally in English and Spanish.
– Ballestas Islands tour in a group
– Taxes and entrance to Paracas Reserve
– Paracas Reserve tour in group 11 Am
– 1-night hotel – Hostel in Paracas
– 1 night hostal – hotel in Ica or Huacachina
– 2 breakfasts in the hotels
– private car Paracas Ica
– Sand buggy tour in shared service 1 hour and 30 min
– sand buggy tax
– transfer to bus station Ica
– Professional bilingual guide (English – Spanish) for all excursions.
– Personal 24-hour assistance during your visit to Peru
---
Not included:
-meals not mentioned.
-Other things not mentioned in the program.
-Bus tickets
---
Optional/ excursions and trekking if you have more time in Paracas, you also can stay more time in Paracas and return back to Lima
| | | |
| --- | --- | --- |
| | Optional excursions from Paracas – Ica 1 Day | Click for Program |
| | In Pool + Private service | |
| 1 | Ballestas in group | click |
| 2 | Paracas Reserva in group | Click |
| 3 | Trekking in the Paracas reserve | Click |
| 4 | Fixed Departures in a Luxury Yacht | Click |
| 5 | Sea Kayaks Punta Ballenas | click |
| 6 | The Scallops Experience: Collection and Tasting | Click |
| 7 | PREMIUM MOTORBOAT EXPEDITION BALLESTAS | Click |
| 8 | E-Bikes in Paracas National Reserve | Click |
| 9 | The outriggers at the National reserve of Paracas 2 h | Click |
| 10 | Tambo Colorado Ruins from Paracas | Click |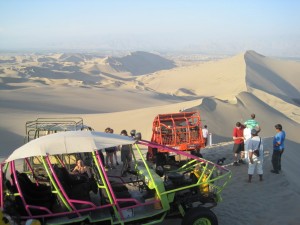 | | | |
| --- | --- | --- |
| | In shared or Private service Huacachina | |
| 1 | Flight over the Nazca lines From ICA | Click |
| 2 | Sand buggy tour Huacachina | Click |
| 3 | Glamping overnight in Huacachina sand buggys 2 d luxury | Click |
| 4 | Camping in Desert Huacachina 2 D | Click |
---
What do we need for a reservation?
* Full name as it appears in your passport.
* Scanned copy of your passport.
* exact arrival date and transport details
* vegetarian or not.
* room type 2 beds or 1 large bed.
* We ask for a 40% deposit when booking the rest 4 weeks before departure. Bank transfer to our Peruvian bank account or Wetravel (+ 4.5%)
https://southamericaplanet.com/en/start-packet-peru-paracas-ica-huacachina-in-3-days/
https://southamericaplanet.com/es/paquete-de-inicio-en-paracas-ica-y-huacachina-en-3-dias/
https://southamericaplanet.com/nl/start-pakket-bouwsteen-paracas-ica-huacachina-in-3-dagen/